You can share your thoughts and private moments and promote your business by uploading a WeChat moments post. If we compare it to other social media platforms, these posts will be shown on your WeChat friend's main feed. This is precisely like posts on Facebook and Instagram, but unlike those platforms, your posts could be viewed only by your WeChat friends. In this post, we will explain how to post moments on WeChat.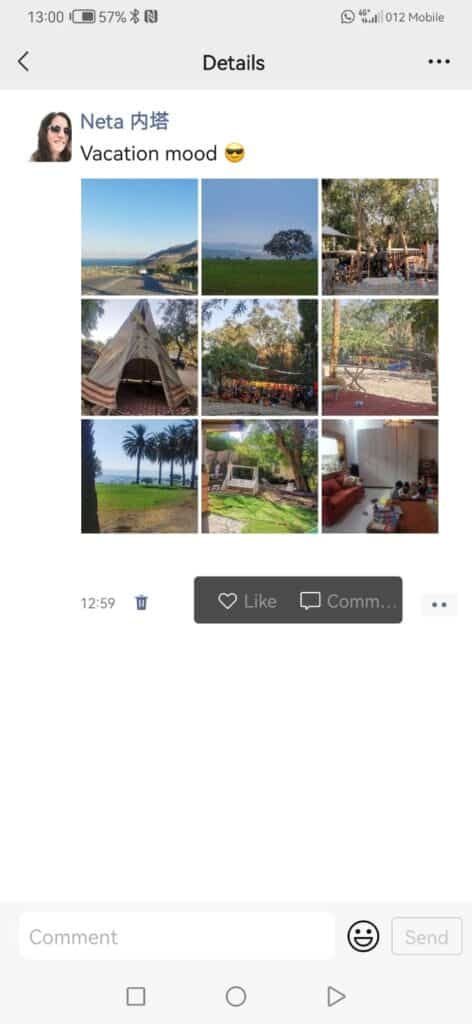 How to Upload Moments:
Open WeChat.
Go to Me.
Click on My Posts.
Go to My Moments.
Press on the camera square next to today's date. This is where you will post your moments.
Take a photo or a video right now, or choose pictures from the album.
Before pressing on the post, you have a few more steps to go:
Adding text above to the photos will make it more personal.
If you wish, write your location and scroll down until you find it. Suppose it's not there. Add it as a new place.
You can mention a WeChat friend related to this post.
Share to option is very important. This is the place to decide who to share this post with.
You can make it public and share it with everyone in your WeChat contact list.
Pressing private will keep this post in your cart but will not be available to anyone else.
The share list option is a great shortcut. If you wish to send it to a group, choose it or select from contacts.
The Do Not List option is the same as the previous one, but this time, you choose the contacts you want to hide your posts from.
You can share this post on your Facebook and Twitter by clicking the icons below and linking it to your WeChat.
After organizing your photos, editing, and deciding who to show this post to, press on a post.
Now, your friends will enjoy your updated posts and can press the heart button or leave a comment. Your friends can see the words only if they are made by a mutual contact who is your and their friend in WeChat. You can control your Moment Settings easily. Check out our details post about it here.