WeChat Moments is a feature in WeChat to upload your posts; it's called in Chinese 朋友圈 which means circle of friends. This feature's greatest advantage compared to other social media platforms is the high level of privacy.
Those posts you upload to WeChat and share only with your WeChat contacts, aka your circle of friends, will be seen in their timeline. menining your Friends yes!, other people no.
You can also check out your friend's new moments posts in your Moments timeline.
The posts can be made of up to 9 photos, videos up to 15 seconds, articles, text in the caption, and include links and websites.
When the WeChat moments started back in April 2012, people shared articles they liked and photos from their trips. Today the WeChat Moments is much more sophisticated, and many users use it to sell their business products this is such an exciting option!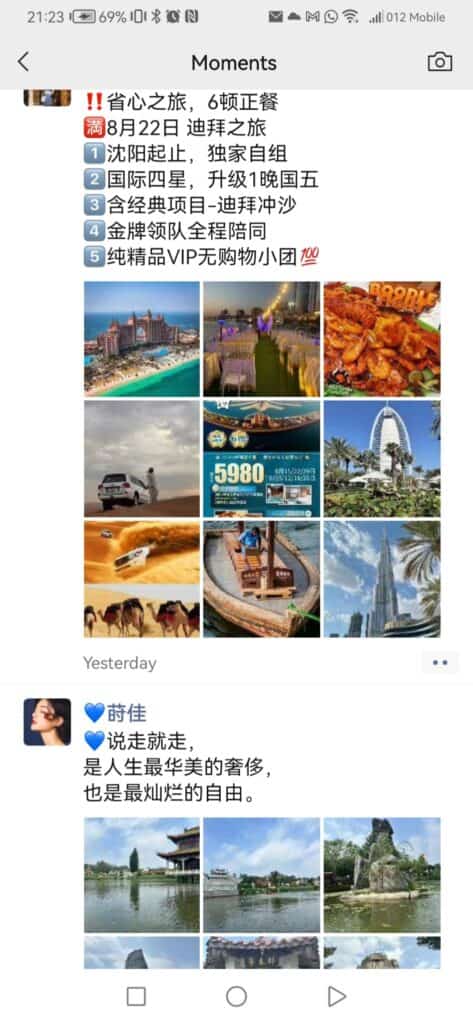 What are the WeChat moments types?
WeChat Photo Moment will let you visually share your story.
There are two ways to do it.
The first from the "Me" section:
Open WeChat.
Press on Me.
Tap on My Posts and then My Moments.
Press on the square with the camera icon next to today's date.
Take a photo right now or upload up to 9 images or a short video up to 15 seconds.
Finalize all the settings below: location, mention, share to, and press on the Facebook and Twitter icons if you wish to publish your post there.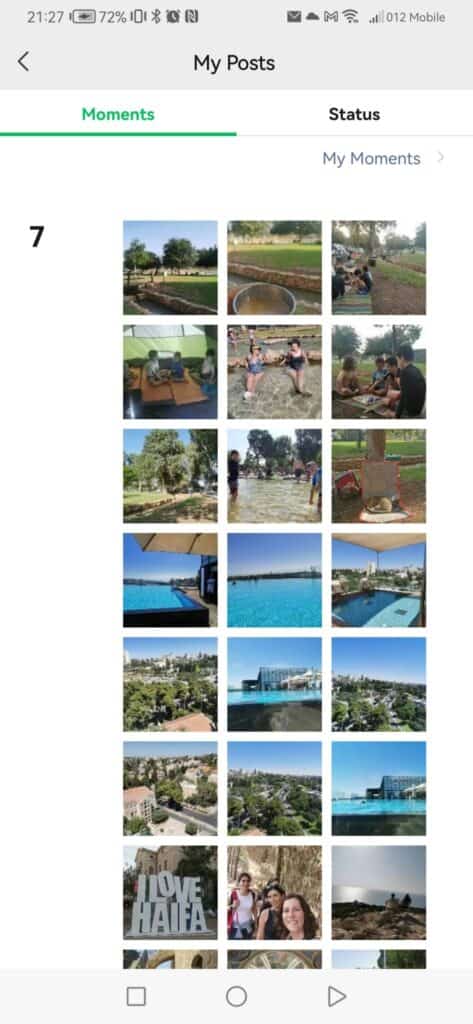 The second way to upload photo Moments is trough the "Discover" tab:
Open WeChat.
Press on Discover.
Tap on Moments and then quickly tap on the camera icon on the right side of your screen.
Tadaam! Follow steps #5+6 above to finalize your moment.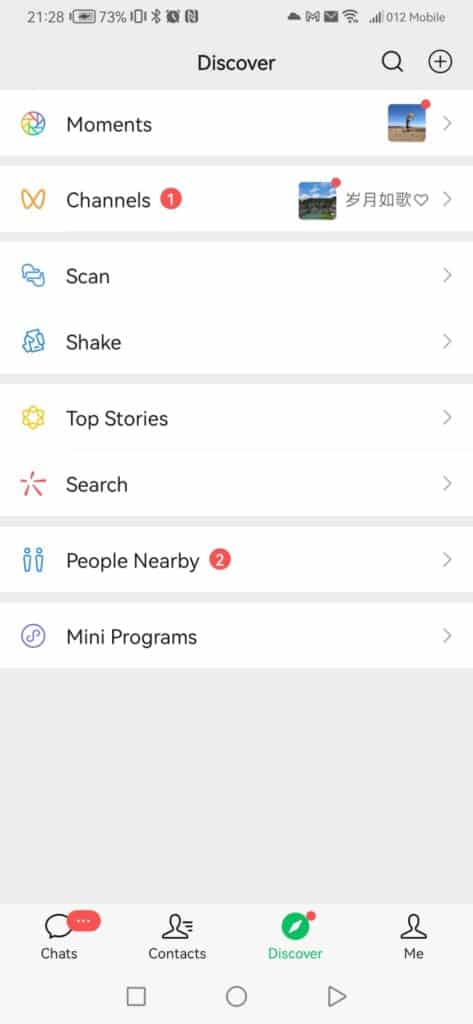 WeChat video Moment
You can also share a video post in the same method. This time, instead of choosing a photo from an album, choose a video up to 15 seconds. Check our secret trick here if you wish to upload a longer video.
You can also share your feelings and ideas by posting a text moment:
WeChat text Moment
Open WeChat.
Press on Discover.
Tap on Moments and then a long press on the camera icon on the right side of your screen.
Now, as mentioned in the text bar, could you say something? Write your status, your day's great, and why we must try a pink bubble tea.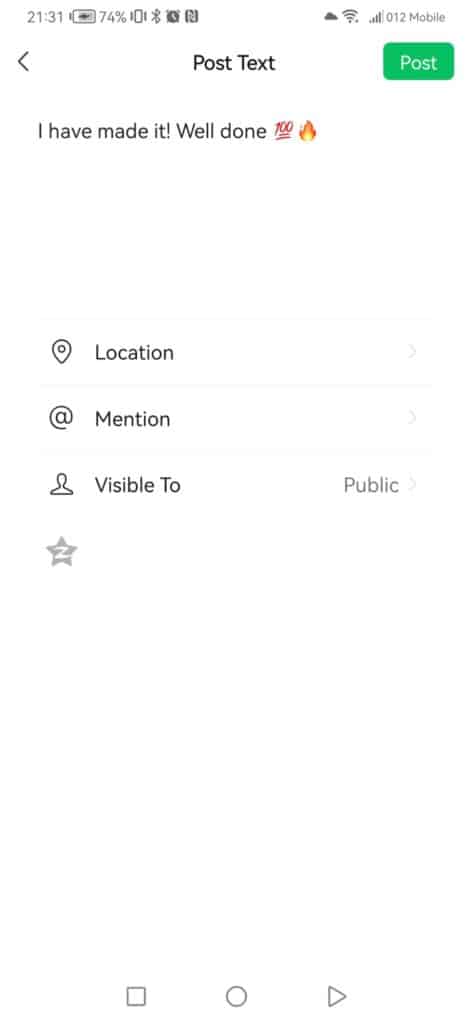 Sharing articles in WeChat Moments
When you pop up with a great article on WeChat and must share it with the world, do it with a few clicks. How do I find and share reports on WeChat?
Open WeChat and go to the Discover tab.
Press on Search.
Write the subject you are curious about.
You can search for an article or use the filter at the top of your screen. You can enter official accounts (brands and companies accounts) and read an article there.
You can choose the articles section and choose one you like.
After pressing the article, go to the three dots in the top right of your screen and choose to send to a private chat or share on moments.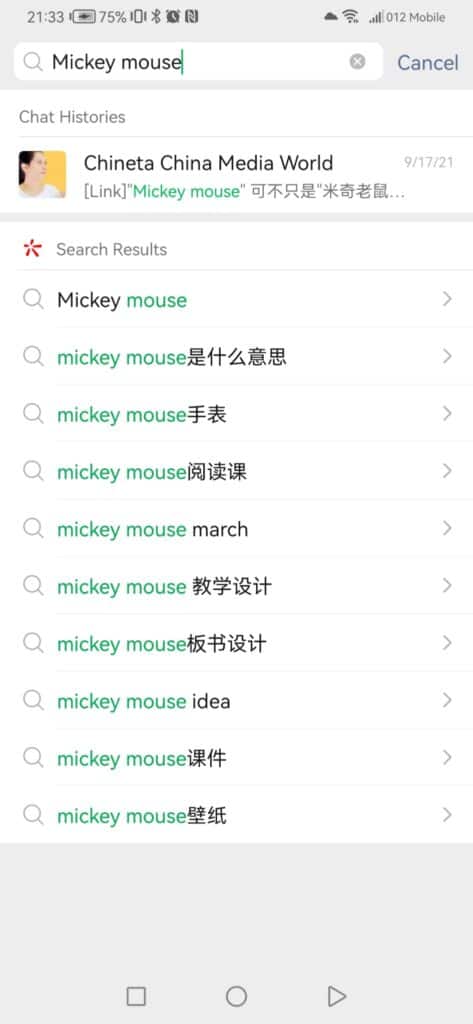 Uploading your moment's post is fun and social. When you have many friends abroad, it is a great way to keep them updated with your life track. The best thing about WeChat Moments is that you can control who sees and does not. So don't worry. The post you shared about your latest secret is safe on your friend's feed. On second thought, don't share any secrets in your WeChat moment. Better tell your friends on a phone call 😉